Within 24 hours of an event happening anywhere in the world, we fuse data from an array of space and ground based sources to produce an exposure report.
Advanced machine learning techniques enable us to deliver to clients their likely financial exposure to the event both in the aggregate and at individual location level, with results that are up to 93% more accurate against traditional cat models.
Key infrastructure locations are plotted and grid squares measuring 5km x 5km are produced, with an indication of the severity of damage in each. This is available via the MIS Intel site, directly as .csv or shapefiles, or via API.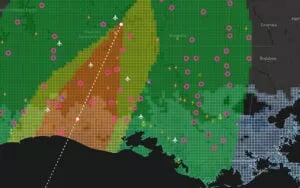 72 hours after the event, we refine our intelligence further using drone, aerial and satellite imagery analysis, and produce an incredibly accurate damage and functionality assessment at individual property level, allowing clients to review comparison imagery for themselves via the MIS Intel site.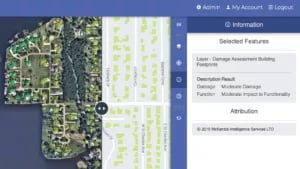 Claims triage and first notification of loss (FNOL) processes are based on fact, not ambiguity, and can lead to a 40% improvement in claims lifecycle.
As well as cost effective claims handling benefits that can improve bottom line performance by up to 2%, most importantly carriers, TPAs and brokers can efficiently service their policyholders when they need it the most.