Mandatory evacuations, lack of access, and the scale of damage from a catastrophic event can cause it to be difficult for a policyholder to file an insurance claim following a natural disaster to cover the loss of personal property, commercial property, or business interruption. Customers commonly deal with insurance company agents only when they submit a claim. Therefore an insurance business should concentrate more on offering its clients high-quality claims services. During this "moment of truth" for an insurance company, providing clients with the services they demand and building their trust in the company's capacity to deliver them is often a crucial consideration in future buying decisions and a major influencer of brand perception.
Customer satisfaction is significantly impacted by the claims management division, one of the most expensive departments for property and casualty (P&C) insurance. According to Deloitte, insurers might make significant financial savings if claims expenses were cut by even one percentage point.
Insurance/Claims organisations have traditionally relied on a sizable pool of highly skilled and knowledgeable people to deliver efficient customer service and support, with investment in technology and digitisation being scarce. However, their identity is defined when they successfully and quickly get customers back on their feet, and their success depends on effective and efficient claims procedures. With businesses seeking ways to boost production, efficiency, and customer satisfaction since the start of the COVID-19 pandemic, automation of claims processing has come to the fore. But how? The claims process can be streamlined by firms investing in technology.
What does a streamlined claim process look like?
US company Brush Country Claims has streamlined the claim procedure process by developing Hubvia, a suite of insurtech solutions that reduce friction and improve the customer experience. Their proprietary systems triage the claim based on severity and the insured's level of comfort with technology and ensure consistent reporting and industry-leading turnaround times.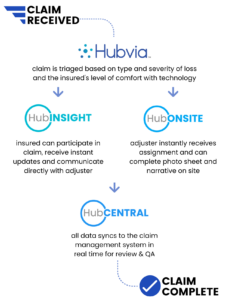 Now, consider the process for responding to a natural catastrophe, whether a flood, hurricane, earthquake, etc. Information on the impact and severity of the event may be accessible as it makes landfall. Still, it is impossible to determine the exact region or the degree of damage that has occurred.
In the insurance claims procedure, placement matters. Insurance companies can better respond to customers by understanding where. Understanding the claim's location enables carriers to act more quickly, and being aware of exposures and other location-related information ensures they have the resources available to serve their clients when needed.
Supercharge your claims process with data & intelligence
McKinsey predicted that by the year 2030, claims processing will be the most important function in the insurance industry, and with the amount of data available today, manual analysis has become increasingly challenging – our complete catastrophe response platform, Global Events Observer (GEO), removes this challenge by combining multiple sources of data to create actionable intelligence, showing where has been damaged, by what, and when.
Using GEO, Exposure Managers, Heads of Claims and their teams, and Loss Adjusters can capture catastrophe-related information more quickly and efficiently than before, starting within hours of the event. MIS' team of Intelligence Analysts start tracking events from the moment a storm system forms off the coast of Africa to the moment a campfire becomes a wildfire in California, creating an insurance-led intelligence collection plan including boundaries, pressures, and exact insured locations, through the use of satellites, drones, and other multi-source data collection methods.
MIS combine optical, synthetic-aperture radar, infrared, and low-light view satellite imagery, high-resolution imagery from fixed-wing aircraft and drones, ground-based sensors, and human intelligence to rapidly provide accurate and actionable intelligence for the insurance industry. This intelligence allows for more focused positioning of adjusters, planning for logistics, and real-time views of the ground conditions, allowing insurers to instantly assess damages when physical access to the risk location may be limited following a natural catastrophe.
The technology helps insurers support customers worldwide during periods of crisis whilst reducing operational costs and the carbon footprint of insurers. The GEO platform brings direct and immediate benefits to reserving, claims management, underwriting and operations across the global insurance market and continues to improve the accuracy of reserving values and reduce claim costs significantly.
Interested in finding out how GEO can help supercharge your claims process? Get in touch with Daniel Grimwood-Bird for more information.